The mission of Fun Motorcycle Training Program is to reduce crashes, injuries and fatalities through comprehensive education.
Florida Approved Motorcycle Training
We are an

APPROVED

motorcycle training school with the Florida Department of Motor Vehicles.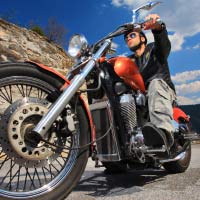 Effective July 1, 2008 new motorcyclists must pass the Basic Rider Course, before a motorcycle endorsement can be added to their license, per Section 322.12(5)(a), Florida State Statutes.
Click for more info on DMV regulations
We are committed to creating and maintaining an orderly, compassionate and encouraging atmosphere. We foster student learning through state-of-the-art, evidence-based curricula, which are rider-focused and value the student/educator relationship. All aspects of the training are optimized to accommodate individual learning styles and to promote a culture of safe riding.
The Basic Rider Course Teaches:
Physical impairment awareness
The necessity of proper riding gear
Proper use of the motorcycle controls,
Effective techniques for proper clutch and throttle control
Starting and stopping
Swerving turning and maneuvering at slow speeds as well as strategies needed to interact with other traffic.
The weekend 2-day class is held on Saturday-Sunday and requires approximately 6 hours per day.
The weekday 2-day class is held on Wednesday-Thursday and requires approximately 6 hours per day.
Located in the Sunshine Mall Park
2400 S Ridgewood Avenue
South Daytona, FL 32119