Florida's Highest Rated Motorcycle Training Site
If you don't pass, you don't pay
At Fun Motorcycle Training of Daytona we believe that everyone has the ability to pass our class with ease. We believe in this idea so much that we offer a money back guarantee. If you don't pass the class, we will give you a full refund. This is to ensure everyone feels comfortable committing to our class. We are so confident in our ability to teach you that we want to remove all the guesswork. If you complete the class and don't pass the test, you don't pay.
ONLY $199 – SIGN UP TODAY!
The mission of Fun Motorcycle Training Program is to reduce crashes, injuries and fatalities through comprehensive education.
Florida Approved Motorcycle Training
FUN Motorcycle Training, located in Daytona Beach in the Sunshine Park Mall, provides motorcycle training classes and courses for both beginners and experienced motorcycle riders.

FMT is dedicated to working with the community in developing responsible, safe, and courteous motorcyclists by nurturing in each of our students the skills, judgment and attitudes associated with a successful life-long riding career.
*There are both male and female instructors available.
Our instructors have up to 50 years riding experience along with 25 years of instructor experience. All  our male and female instructors and classes are certified by the Motorcycle Safety Foundation (MSF) and Florida Rider Training Program.
* Please note: If you do not own a motorcycle FMT will provide a user-friendly motorcycle or if requested a automatic transmission scooter. Students can (with prior approval) use their own motorcycle or scooter.
No Charge for Retesting or Rerides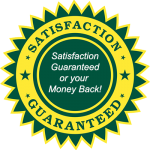 FUN Motorcycle Training offers an unmatched guarantee. If you complete the course and do not pass we will provide a full refund. We are devoted to helping you acquire your license in the easiest and most enjoyable way possible and will work with you to make sure you are 100% happy with your experience!
Fun Motorcycle Training is the most affordable course in all of Volusia County!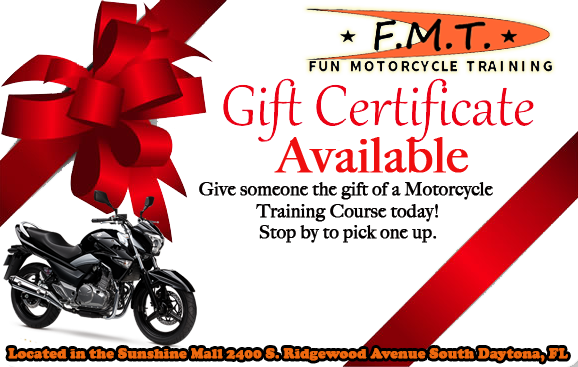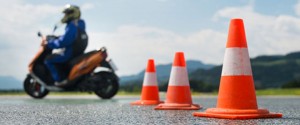 Fun Motorcycle training services clients all throughout the state of Florida including the following counties:
Volusia, Flagler, Brevard, Orange and Seminole.
Daytona Beach
Edgewater
New Smyrna Beach
Port Orange
Ormond Beach
Holly Hill
Palm Coast
and surrounding areas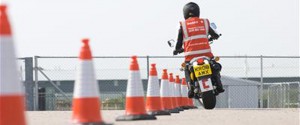 In the classroom, you'll learn about the different types of motorcycles, layout and operation of the basic controls, and how to become a safer, more responsible rider. You'll then move to the riding range where your MSF-certified coach will guide you through the basic skills of:
straight-line riding

stopping

shifting

and turning

gradually progressing to swerving and emergency braking.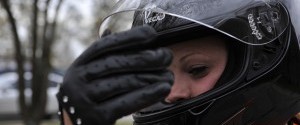 For your protection you will need to bring: 
DOT Helmet

Eye Protection

Long Sleeves

Full Finger Gloves

Long Pants (with no holes)

Over The Ankle Footwear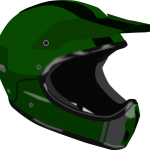 * We can provide helmet if needed.